Welcome
Duane Hampton, widow of decorator Mark Hampton and mother of decorator Alexa Hampton and actor Kate Hampton, has worked as a writer, editor, and lecturer. She was born in Portland, Oregon, and has lived in Thailand, Hawaii, Pennsylvania, and New York. While traveling in Italy after her freshman year at Mt. Holyoke College, she met Mark Hampton in Florence. They married in 1964 and moved to New York City to attend graduate school.

After receiving an M.A. in English literature from New York University, Mrs. Hampton began working for Conde Nast Publications as Design Editor at Mademoiselle, writing a monthly column. She then became Assistant Features Editor at House & Garden, later helping to edit the Vogue Book of Etiquette, and two cookbooks, New York Entertains and Who's Who in New York Kitchens.

Just before the birth of their first child, Mrs. Hampton retired from the workplace to prepare for the equally demanding job of full-time mother to the couple's two daughters. Over the years, she has been involved in New York City's not-for-profit world as a long-time trustee of the School of American Ballet, the Carter Burden Center for the Aging, and the Municipal Arts Society. In the 1980s and early '90s she co-owned and ran an antiques shop, the M.H. Stockroom, on Madison Avenue with Louise Grunwald.

Mrs. Hampton returned to writing in the early 1990s with articles on personal relationships, civic life, travel, beauty and aging for Quest and Town and Country. Her book on her late husband's watercolors, The Art of Friendship, was published by Harper Collins in 2001.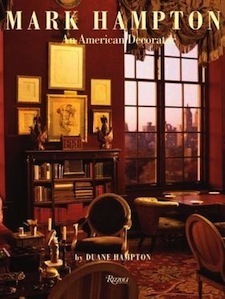 Her newest book is MARK HAMPTON: An American Decorator, published by Rizzoli in April 2010. Since it's publication Mrs. Hampton has been lecturing from coast to coast on her husband's life and career. After Mark Hampton's death in 1998, Alexa Hampton successfully took over her father's firm and in 2010 published her own book, "The Language of Interior Design."

An excerpt follows.

Pop Quiz:

You are born and raised in the '40s and '50s in a small middle-of-nowhere Midwestern town. Your parents come from hardworking Quaker stock. Your father is a farmer and the town undertaker. You grow up to be:


(a) a John Deere farm equipment salesman
(b) a high school basketball coach
(c) a preacher
(d) a world famous interior decorator

While hardly a brain teaser, given the subject of this book, the correct answer makes a valid point about unpredictability. In 1988 a question like this was posed in the introduction to one of the lectures on the history of decoration that Mark Hampton gave across the country from the 1970s through the 1990s. The speaker, New Orleanian Julie McCollam, suggested that Mark's upbringing was "ideal for producing the foremost interior decorator in America, although at first glance it may seem a quantum leap from Plainfield to an enviable preeminence in the high-glamor world of New York interior decoration. Rural areas have historically produced talented individuals whose drive and dreams have propelled them to the forefront in big cities. . . That a Mark Hampton could flourish in small town America will come as no surprise to those familiar with the unexpected pockets of artistic fecundity which have always existed in seemingly barren places." To bolster her case, she harked back to "tales of the young pre-Florentine Leonardo scratching his sheep picture on a stone, to the wonder of city travelers—or the youthful Michelangelo emerging a full-blown genius from the wilds of Settignano into Ghirlandaio's studio."

How do you follow an introduction like that? Mark gave it his best shot—but only after a quick disclaimer, a self-deprecating soft-shoe to extricate himself from any comparison to those towering giants of fifteenth- and sixteenth-century art. And then he got on with the business at hand: conveying his knowledge and love of design to an eager audience. It was what he did best, in his decorating, his lectures, his articles and books.

By 1988 he had a lot to talk about; he had been working as a decorator for twenty-seven years. In 1961, during his junior year in college at the London School of Economics, Mark was hired by David Hicks as a draftsman and assistant. Two years later, while he was earning his master's at NYU's Institute of Fine Arts, he landed a summer job with Mrs. Henry (Sister) Parish II, just before she formed her famous partnership with Albert Hadley to create Parish-Hadley Inc.

Mark's own clients—a family moving from Chicago to New York — came along in the spring of his penultimate year of graduate school. That job became his first published work, with the doubly appropriate title, "Midwest to Mid-Manhattan," in The New York Times Magazine, in March, 1966. The next year, with a Master's in Art History, he set up shop as the New York associate of David Hicks until 1970, and subsequently worked for Eleanor Brown at McMillen Inc. for six years before starting his own firm in 1976.

In addition to amassing an impressive group of private clients by 1988, he had that spring introduced an eponymous furniture line for Hickory Chair, completed two years of restoration and decoration—with Mario Buatta and Chief of Protocol Selwa Roosevelt—on Blair House, the president's guest house, and had decorated the vice president's residence for George and Barbara Bush. He was a member of the Collector's Committee of the National Gallery of Art, had painted the White House Christmas card for the Reagans, and one of his interior watercolors had been selected for the permanent collection of the Victoria and Albert Museum.

His television experience included remodeling an H.H. Richardson house in Newton, Massachussetts with Bob Vila for This Old House on PBS, and appearing on CBS's morning news and ABC's Good Morning America. For several years he had written and illustrated a column for House & Garden, and his first book was at the printer.